The Shearwater Teric computer was released today and will again redefine the dive computer market.
If you are a technical diver you will already know of the Shearwater Petrel and Perdex AI. Now the Shearwater Teric will also soon be known by recreational divers and freedivers.
Scuba Gear and Dive HQ Christchurch have pre-orders in, and waiting on delivery of this well awaited dive computer which was released to the media and dive industry today. Shipping of stock will be limited at first, but production of the Teric will be continuous to meet the dive computers worldwide demand.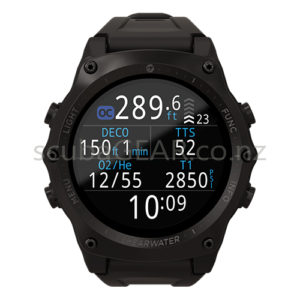 The Teric has all the features scuba divers have come to love in all the other Shearwater computers and they have also added more. It is our most compact unit, yet it is also our most feature rich unit. The Teric comes with AMOLED full colour display that is very easy to read even in adverse conditions.
The Teric has 4 buttons. Shearwater have applied situationally adaptable logic to our menus and buttons making the Teric very intuitive. It is also very configurable. You can configure one of the 4 buttons to give you a single press access to different tools like compass, stopwatch, countdown timer, etc.
It is a full air integrated dive computer compatible and can monitor up to two pressure transmitters in two different tanks. It has Recreational, Gauge, OC Tech and CC/BO modes with up to 5 Trimix and nitrox gases. But it also has an all new Freediving mode with configurable sampling/ logging rates and improved ascent and descent indicators. There are haptic and audible alarms that can be disabled to prevent annoying other divers in the vicinity.
The Shearwater Teric uses a wirelessly rechargeable battery and ships with a wireless inductive charger. Add to this the Shearwater Bluetooth communications protocol for downloading logs and updating firmware and you have a fully enclosed unit with reduced flooding risks since the user will never need to open it up to connect a cable or change a battery.
Like the NERD 2, the battery can be replaced at one of our authorized service centres. We expect battery life to be 5 years.
Finally, Shearwater have also built it up with a robust hardware set with plenty of room for firmware improvements and new features